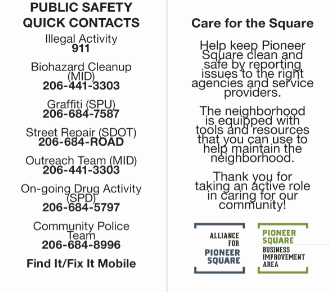 City of Seattle Public Safety Numbers: The Seattle Police Department provides several public safety resources to Pioneer Square. Click here and here to find an full list of SPD resources.
Mental Health First Aid: Mental Health First Aid is an 8-hour course that teaches you how to help someone who may be experiencing a mental health or substance use challenge. The training helps you identify, understand and respond to signs of addictions and mental illnesses
Illegal Activity: 9-1-1 for both emergency and non-emergency reporting.
On-Going Drug Activity: If police need to be aware of on-going drug activity but doesn't require immediate response can be reported online as a Narcotics Activity Report or by calling 206-684-5797.
Metropolitan Improvement District (MID): 206-441-3303. Founded by the Downtown Seattle Association in 1999, the MID is a business-improvement area spanning 285 square blocks in downtown – from Denny Way to Pioneer Square and from I-5 to the waterfront. With funding from MID ratepayers, DSA provides cleaning, safety, concierge and homeless outreach services in six center city neighborhoods. MID ambassadors are on the streets of downtown every day, ensuring an inviting, safe and clean urban experience for everyone. Click here for downloadable rack card of the MID's Clean and Safe Services.
Community Police Team: 206-684-8995.  Community Policing is designed to address the distinctive needs of each community. The plans take a three prong approach that brings community engagement, crime data and police services together to get direct feedback on perceptions of crime and public safety. Community Policing tailored to meet the individual needs of each community, with a unique approach owned by the community. Learn more about the City of Seattle's West Precinct resources.
2-1-1: an easy-to-remember phone number for people to call for health and human service information and referrals and other assistance to meet their needs.
National Suicide Prevention Lifeline: The National Suicide Prevention Lifeline is a national network of local crisis centers that provides free and confidential emotional support to people in suicidal crisis or emotional distress 24 hours a day, 7 days a week