Chief Seattle Club is embarking on a vital project to redevelop the site at 108 2nd Ave Ext S. This project will create affordable housing and a ground floor health clinic and native arts café/gallery to support the physical, spiritual and cultural needs of the native community.
As the front door to this project, Fortson Square will also be recreated as a welcoming place for everyone. The Alliance for Pioneer Square is working in partnership with Chief Seattle Club on community outreach in this redesign effort. Design efforts for the new building and public space are led by Jones & Jones in coordination with SDOT.
Fortson Square concept design work kicked off in summer 2019. The final designs are anticipated for summer 2020 with construction taking place late 2020/early 2021.
The Alliance for Pioneer Square, Chief Seattle Club, and SDOT hosted an open house on Wednesday, September 18th from 4-6pm at Forston Square (SE corner of Yesler and 2nd Ave Ext S) where the community had the opportunity to learn about the culturally rich background of the site, provide feedback on how the space could potentially be used, and learn about the findings from SDOT's Public Life Study for Yesler Crescent.
Missed the open house? Take the survey online.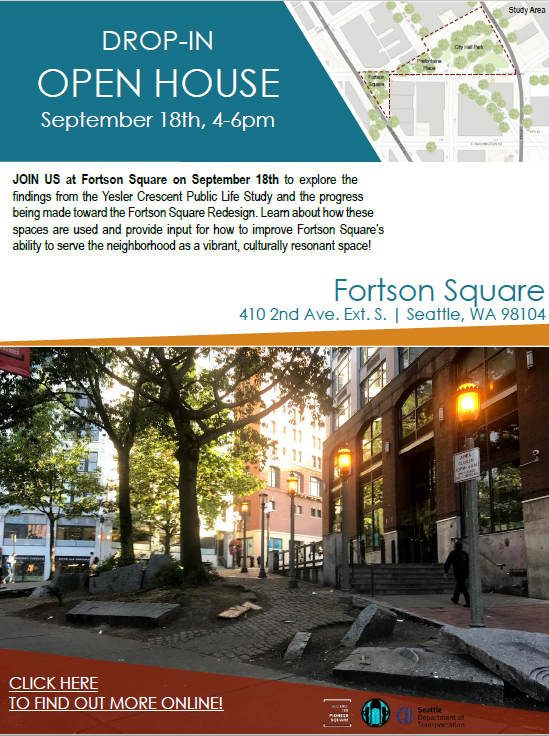 View the Working Group Meeting #1 Cultural Engagement Plan below.
Reimagine-Fortson-Square