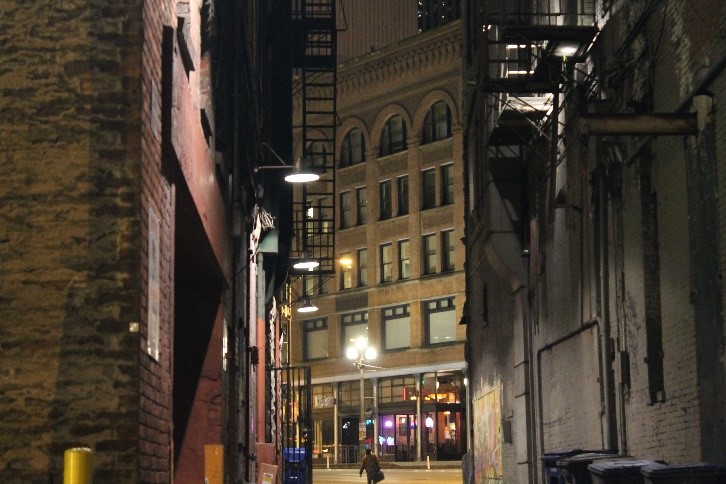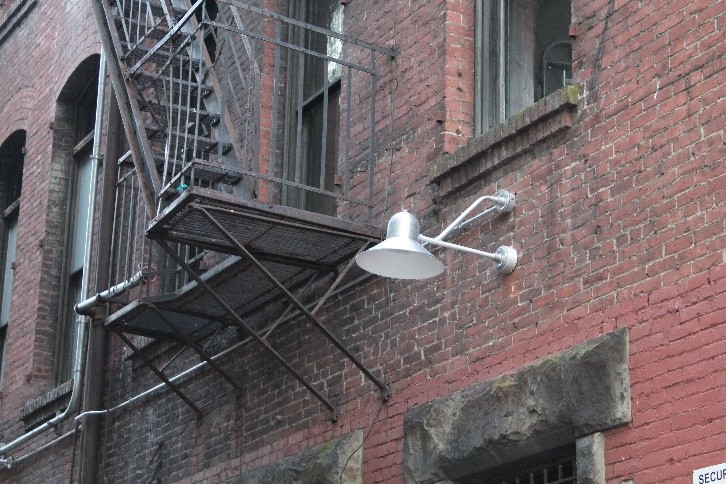 Next time you pass by the alley next to Tat's Delicatessen off Yesler, look up at the new alley light fixtures on the Interurban Building. These new attractive lights replace the standard wall packs.  Grant Wojahn, Quote Wizard and Pioneer Square BIA Board, headed up the project to make the alley a safe and pleasant route. Grant took on everything from applying to the Pioneer Square Preservation Board, negotiating with the building owner on permission and costs, and managing the contractor. The project also involved cleaning up old unused wires and conduit on the building façade.
The project drew inspiration from the alley lighting concepts developed by Leni Schwendinger, Olson Kundig Architects and SvR Design Company. This team was hired under the leadership of Pioneer Square based International Sustainability Institute (ISI) with funding from a Seattle Department of Neighborhoods grant to develop surface and lighting designs. Since 2008, ISI has spearheaded efforts to make our alleys safe, walkable and active routes. The new lighting concept illustrates suggested lighting for Pioneer Square alleys from overhead string lighting to light fixtures. The intent is to inspire building owners, residents and businesses to improve their alley lighting and replace energy consuming lights.
In other alley news, check out the new alley door at Casco Antiguo. Another fantastic example of illuminating the alley by opening up the back of a restaurant.
If you're interested in finding ways to illuminate your alley, check out the alley lighting concepts here or drop me a line (liz[at]pioneersquare.org).