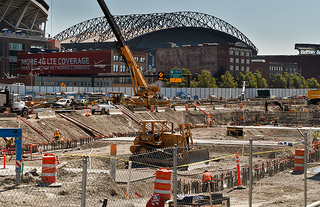 Milepost 31 Speaker Series – Protecting structures along the SR 99 tunnel route
Safety is WSDOT's number one priority on the SR 99 Tunnel Project. This includes protecting buildings, utilities and roadways above and near the tunnel route. Learn how advanced technology will allow WSDOT to keep a continuous eye on the ground around the tunnel before, during and after construction.
6 to 6:30 p.m.
Thursday, Oct. 4
211 First Ave. S., Seattle
Admission is free.
After the talk, be sure to leave enough time to explore the rest of the First Thursday Art Walk in Pioneer Square. Milepost 31 is open Tuesdays through Saturdays from 11 a.m. to 5 p.m., and stays open until 8 p.m. on First Thursdays.
Tunneling toward a new SR 99 corridor
At 57.5 feet in diameter – roughly as tall as a five-story building – the SR 99 tunnel boring machine will be the world's largest. Crews are currently assembling the machine in Japan. It will be tested, taken apart and barged to Seattle in more than 40 pieces, which will be reassembled in an 80-foot-deep launch pit to the west of Seattle's stadiums. The first pieces of the machine will begin arriving early next year, and tunneling is scheduled to start next summer.
Curious how the tunnel boring machine will work? Check out the 10-foot-long, motorized scale model on display at Milepost 31 for an up-close look at the machine's inner workings.