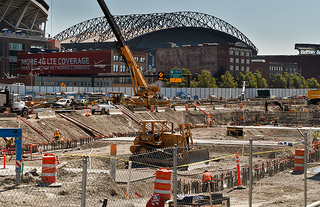 SR 99 tunneling machine tweets her name: Bertha
The world's largest-diameter tunneling machine now has a name, a face and a voice. Meet Bertha, the five-story-tall steel behemoth that will begin boring the SR 99 tunnel  beneath downtown Seattle next summer.
Bertha's name was chosen as part of a contest for kindergarten through 12th-grade students. Proposed names had to be female and have significance to Washington state heritage, life, nature, transportation or engineering. Bertha was selected from more than 150 entries by a panel of judges that included Gov. Chris Gregoire and Transportation Secretary Paula Hammond. Elected mayor of Seattle in 1926, Bertha Knight Landes was the first woman to lead a major American city.
Leaders from the Washington State Department of Transportation and its contractor, Seattle Tunnel Partners traveled to Osaka, Japan in December to view major components of the newly-assembled machine rotate, extend, retract and move. After testing is completed, she'll then be disassembled and loaded onto a ship scheduled to arrive in Seattle next spring. Tunneling will start next summer to the west of Seattle's stadiums, where crews are currently building the massive pit down which the machine will begin its underground journey.
Find out the latest information directly from Bertha via her Twitter handle, @BerthaDigsSR99, as she begins her historic journey from Japan.
Milepost 31 Speaker Series
Milepost 31 will take a one-month hiatus from its First Thursday speaker series in January. Mark your calendars for our Feb. 7 presentation about the role of archaeologists during construction on the SR 99 Tunnel Project.
For more information about the SR 99 Tunnel Project, visit www.alaskanwayviaduct.org.