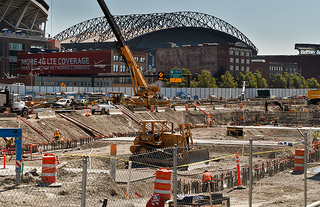 From WSDOT:
If you haven't seen the SR 99 tunnel's south-end work zone lately, you should. The progress our crews are making to the west of Seattle's stadiums is jaw-dropping, and it's worth taking a look. Crews are building the launch pit and the facilities that will support the tunnel boring machine when it begins its underground journey this summer. Farther south, we are building supports for the new South Atlantic Street overpass. Keep your eyes open in the coming weeks as the bridge deck takes shape over SR 99.
If you want to experience construction in person, the best viewing area is on the bicycle/pedestrian path to the west of the construction zone, between South Jackson and South Atlantic streets. We've posted a series of informational signs on the fence along the path to help visitors understand what crews are up to. This map shows you how to get there. Of course you don't even have to leave your chair to see tunnel crews in action. Our construction cameras give you the latest view of what's happening in the north- and south-end work zones.
Milepost 31 Speaker Series – Digging Through the Past
Join us for a talk about archaeology, a brief history of the viaduct replacement work site in SODO and Pioneer Square, and the role of archaeologists during construction. This is a chance to see some recovered historical items that provide a view into the area's past.
6 to 6:30 p.m. Thursday, Feb. 7
211 First Ave. S., Seattle
Admission is free.
After the talk, be sure to leave enough time to explore the rest of the First Thursday Art Walk in Pioneer Square. Milepost 31 is open Tuesdays through Saturdays from 11 a.m. to 5 p.m., and stays open until 8 p.m. on First Thursdays.
Free parking is available for First Thursday art walk patrons in Pioneer Square. Please visit www.FirstThursdaySeattle.com for more information about participating garages.
For more information about the SR 99 Tunnel Project, visit www.alaskanwayviaduct.org.