---
Pioneer Square News + Updates
Spring is here in Pioneer Square! As we turn towards the warmer, dryer part of the year, we're looking forward to a busy season of great events and neighborhood happenings. Pioneer Square Spring Clean will be kicking off on April 28th with opportunities to help spruce up the neighborhood. Public input for Occidental Square Park is underway, with a second task force meeting taking place on April 26. Finally, Upstream Music Fest + Summit returns the first weekend in June to bring hundreds of artists and thousands of music fans to our doorstep – with tickets on sale now.
---
Headlines
"Alley Rally" Celebration Recap
Pioneer Square came together to celebrate and rally through the rain
On a rainy April 5th during First Thursday Art Walk, Pioneer Square celebrated the completion of Nord Alley and Pioneer Passage. Both alleys now feature beautiful new brick surfaces and improved stormwater drainage systems. The event started off with remarks from Barry Blanton – Co-Chair of the Alliance board, Todd Vogel – former Director of the International Sustainability Institute, Leslie Smith – former Executive Director of the Alliance, and Ward Van Allen – Pioneer Square BIA member and owner of Casco Antiguo. A ribbon cutting ceremony followed directly after in both alleys.
Event attendees had the chance to enjoy music from local musicians Just Us and Explosions Everywhere!, as well as watch live painting demonstrations by artists Sam Day and Baso Fibonacci. The Alliance would like to thank everyone who came out for helping to commemorate this exciting neighborhood achievement.
---
Upcoming Events
Occidental Square Park Task Force Meeting
On April 26th, the Downtown Seattle Association is hosting a meeting in Pioneer Square to go over their involvement in the park, and to give you the opportunity to share your ideas about the future of this vibrant public space. Meet your neighbors and chat over complimentary snacks and refreshments.
Task Force Meeting
Thursday, April 26th
From 4-5pm
Occidental Square Park Survey
Share your feedback
The Downtown Seattle Association is asking for public feedback about their programming and park management in Occidental Square Park and Westlake Park. You'll be entered to win a $30 gift card to General Porpoise Doughnuts just for lending your comments!
To take the survey, ask a Park Ambassador in person or visit:
downtownseattle.org/parksurvey
Please respond by Friday, April 27.
---
Spring Clean in Pioneer Square
Saturday April 28th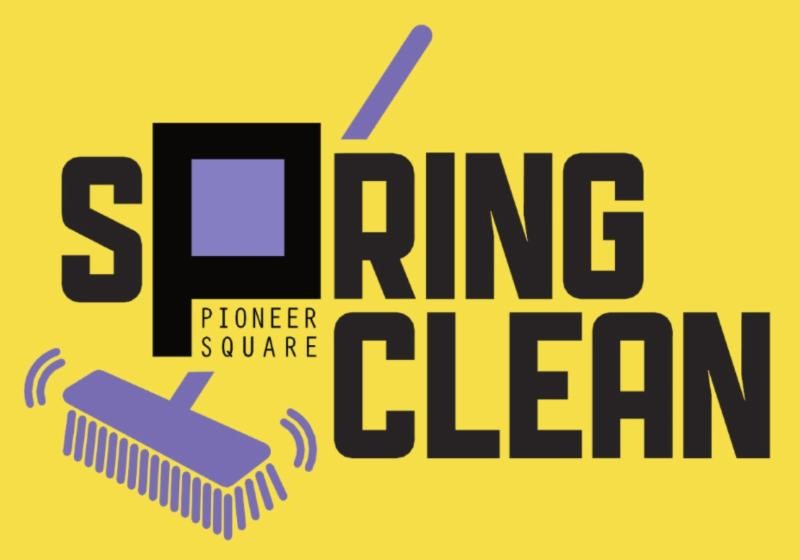 Spring is here! Join us on Saturday, April 28th for the annual Pioneer Square Spring Clean! It's a fun and free community event for all ages and abilities. Make Pioneer Square an even more beautiful and welcoming place by sprucing up the neighborhood with your friends and coworkers. Scheduled activities include litter pickup, graffiti removal, gardening, and more! Snacks and refreshments will be provided, and free T-shirts will be available while supplies last.
WHERE: Meet at Occidental Square Park
WHEN: Saturday, April 28th, 2018
                Check-in: 8:30am
                Cleanup activities: 9:00am – 12:00pm
---
Upstream 2018 Discounted Tickets
Get 10% off now
Early bird tickets are on sale now for Upstream 2018 and, because you're an Alliance for Pioneer Square newsletter reader we're excited to offer you a 10% discount that can be applied at any time*! Just follow the link below and make sure to use the discount code Upstream2 to get this special rate.
Discount code: Upstream2
*Discounts vary and are subject to availability. Discount codes exclude VIP packages.
---
Neighborhood Construction Updates
Center City Connector Streetcar
On March 30, Mayor Durkan directed the City of Seattle to halt the ongoing projects related to the Center City Connector streetcar, except for work on seismically vulnerable water mains in Pioneer Square, pending an independent review. While conducting a preliminary assessment, it was discovered that the proposed project could face a significant capital shortfall. As a result, the City also has initiated an independent investigation of the projects management to date.
---
Alaskan Way Viaduct Replacement Program
Update on progress
A double-deck highway now runs end to end inside the new SR 99 tunnel. Earlier this month, contractor Seattle Tunnel Partners installed the last of the 1,152 road panels that together form the lower (northbound) roadway. Here is a video of the last panel being installed.
Now, crews are installing and testing the tunnel's operational and safety systems. It's a big job. Thousands of components that make up systems like fire suppression and ventilation will be tested at least three times – once to make sure they work, then to make sure they work as a system, then together with other systems to make sure all systems are integrated and functional. Together, these systems will make the SR 99 tunnel one of the 'smartest' tunnels ever built. This video explains how the critical air quality and fire safety systems work together.
After the systems are all certified, STP will hand the tunnel over to the Washington State Department of Transportation so a different contractor can realign SR 99 and build the final ramp connections to and from the tunnel. WSDOT estimates that the tunnel may open to traffic as early as this fall.
Send an email to viaduct@wsdot.wa.gov if you would like to be added to email lists for updates on the viaduct demolition and/or the SR 99 Connections Project.
---
Construction Roundup
March 2018
---
Find It! Fix It!

Have you seen an issue in the neighborhood, but didn't know how to report it to get it taken care of? " 
Find It, Fix It
 " is a smartphone app offering mobile users one more way to report selected issues to the City of Seattle. Reporting an issue is as easy as snapping a photo with your smartphone, adding detailed information, and hitting submit. Help us keep our neighborhood clean and well maintained. Be on the lookout to report graffiti, potholes, street lights out, abandoned cars and other issues through the Find it, Fix it app, 
online
, or by calling 206-684-7587. If graffiti shows up on your property, make a police report by calling 206-625-5011.