Neighborhood News + Updates
December 2017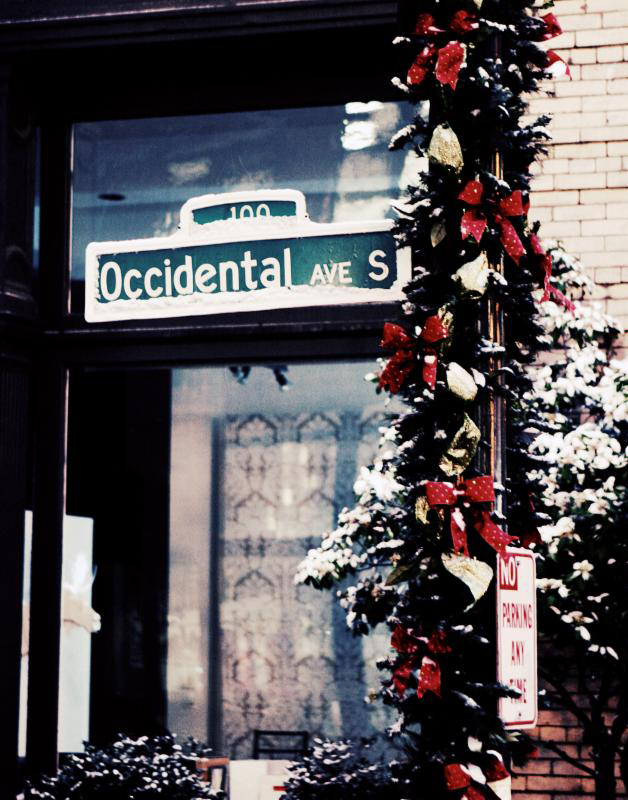 ---
HOLIDAY HOOKY HOUR RETURNS
Businesses around Pioneer Square are hosting promotions, prizes, and festive activities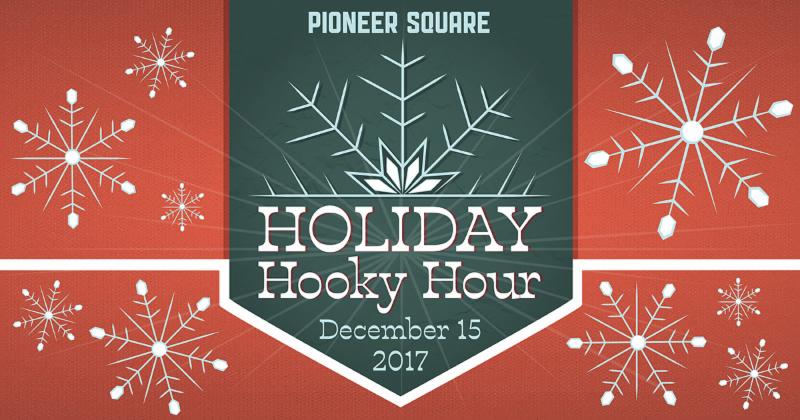 On December 15th, Pioneer Square businesses will be encouraging everyone to take a moment to pause and enjoy the spirit of the holiday season while indulging in shopping, dining, and more around the neighborhood.
Come play hooky with us, get your shopping list crossed off, and enjoy a delicious bite to eat or well-deserved drink. You've earned it and we're making it easy! Businesses around Pioneer Square will be offering great promotions, fun prizes, and festive activities all day to get the party started.
Want the chance to win one of four fabulous Pioneer Square prize packages? Make sure to pick up your official Holiday Hooky Hour passport at one of the participating businesses on December 15th. Then simply visit at least five of the Hooky Hour locations that same day, getting your passport marked at each stop. Finally, turn in your passport at the last location for a chance to win! Prizes include Seahawks tickets, hotel stays, restaurant and shopping gift cards plus much more*! So get out there and explore the Square! You'll be glad you did!
* No purchase is necessary to win, and the odds of winning depend on the number of entries.
---
MORE HOLIDAY FUN
Check out all the ways to enjoy the festivities in Pioneer Square this December
Occidental Park Holiday Art Installation
Now through the end of the holiday season you can enjoy a special art installation in Occidental Park. The colorful modern sculpture features changing multi-hued lights set against the historic backdrop of Pioneer Square. Holiday photo anyone?
Through the end of December
December First Thursday Art Walk
Thur Dec 7 – 5 to 9pm
Pioneer Square Neighborhood Holiday Market
We're excited to welcome numerous local Pioneer Square vendors to the first ever 
Holiday Market in Occidental Square
! There will be live music in the park and hot cocoa to enjoy as well.
Fri Dec 15 – 10am to 2pm
Free Horse-drawn Carriage Rides in Occidental Square
Make your way through Occidental Square in style with 
FREE horse-drawn carriage rides
all afternoon! We'll also have crafting activities, carolers, hot cocoa and letters to Santa.
Sat Dec 16 – 1pm 
Holiday Events Around the Square
Our local businesses are planning some fun events to add some cheer this December. Check out the 
Pioneer Square event calendar
 for all the details.
---
END OF THE YEAR FUNDRAISING CAMPAIGN
Support the Alliance for Pioneer Square in our community-building efforts!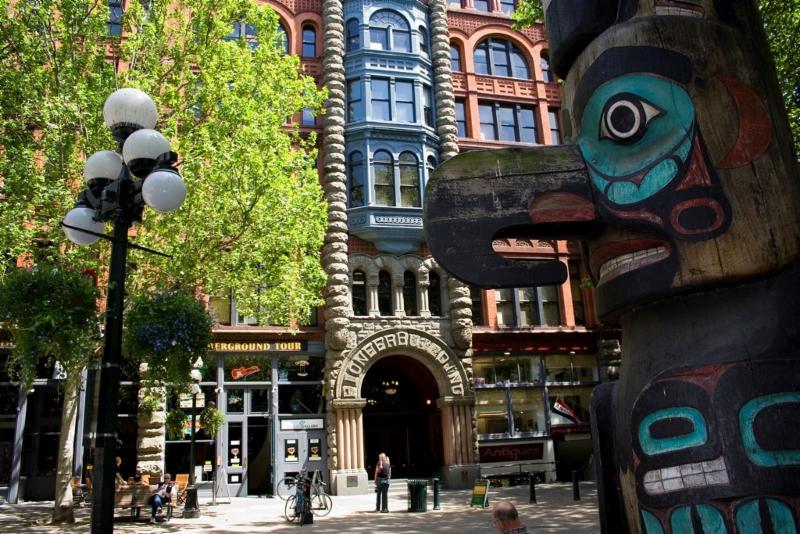 As we head into the last few months of 2017, we're reaching out to our community and inviting you to join the growing neighborhood momentum by offering your support to the Alliance for Pioneer Square. Your gift allows us to engage in the vital work of strengthening, preserving, and promoting the amazing assets the Pioneer Square neighborhood provides to Seattle residents and visitors alike. Pioneer Square is a place rich in history, art, and innovation. It's really unlike any other neighborhood, and we're thankful that people like yourself recognize and value the importance of championing that.
---
PARKS AND GATEWAYS ONLINE SURVEY
Provide your feedback to improve parks and public spaces in Pioneer Square
Add your input to guide the development of refined designs for King Street Station Plaza and Union Station Square! Take a brief survey and give us your feedback to improve public spaces in Pioneer Square.
This survey is part of the larger Pioneer Square Parks and Gateways Project. The goal of this project is to create a robust system of parks and public spaces that are inspiring, active, and inclusive for all.
---
PIONEER SQUARE ALLEY IMPROVEMENTS
Resurfacing has begun in Nord Alley and Pioneer Passage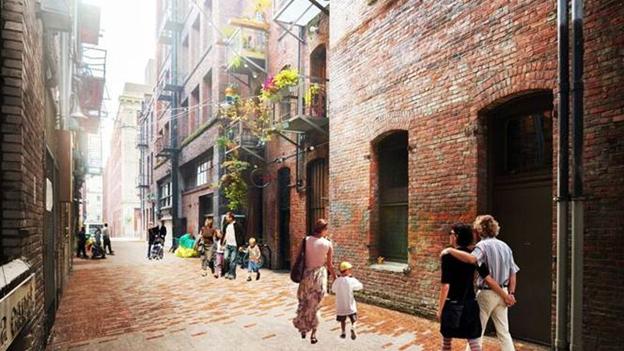 The long awaited resurfacing of Nord Alley and Pioneer Passage began in November. The resurfacing is part of a multi-year project that has focused on improving and activating these unique public space.This project has been spearheaded by the International Sustainability Institute (ISI).
With support from the Department of Neighborhoods, ISI sponsored a community-driven alley design process in 2013-14. They hired engineers and architects to create a design that speaks to the area's history, makes alleys accessible to everyone, and creates an easy-to-maintain surface.
SDOT's contractor, Gary Merlino Construction Company, started work in Nord Alley recently, and will move to Pioneer Passage, with some overlapping of construction between the two alleys. Logistically, Merlino will work in one half of each alley at a time (north or south ends), leaving the other end accessible.
SDOT will send out regular email updates providing information about the construction and its impacts, and will make direct contact with adjacent properties and businesses that are being directly impacted. If you would like to be added to the email list, please write to 
liz@pioneersquare.org
.
---
UPCOMING PIONEER SQUARE EVENTS
What's happening in the neighborhood
Wed Dec 6, 10am – 7pm
Enjoy complementary gift wrapping from Jessica Zen at the Present Perfect plus scrumptious seasonal treats and twenty surprise gifts for lucky customers.
Get in the holiday spirit at First Thursdays Art Walk in the square with live ice sculpting, carolers and more!
Sat Dec 9, 11am – 3pm

Bring your pooch to the sixth annual Pioneer Square Howlidays featuring free entertainment, activities, and treats-for dogs and people!
Thurs Dec 14 to Sat Dec 16, 11am – 6pm
Shop amazing vintage vendors and enjoy hot cocoa, treats, and Santa pics!

Fri Dec 15, during business hours
Take a moment to pause and enjoy the spirit of the holiday season while indulging in shopping, dining, and more around the neighborhood.

Fri Dec 15, 10am – 2pm
Join local Pioneer Square vendors in the park for the first ever Pioneer Square Holiday Market.There will be live music in the park and hot cocoa to enjoy.
Sat Dec 16, 1pm
---
MILEPOST 31 MOVES ONLINE
Pioneer Square attraction moves to a virtual space
Alaskan Way Viaduct Replacement Program
Milepost 31, the award-winning visitor center created by the SR 99 Tunnel Project, closed its doors on Nov. 25 after six years and almost 80,000 visitors. It highlighted the people and projects that shaped Pioneer Square, and provided an inside look at the SR 99 Tunnel Project.
---
CONSTRUCTION ROUNDUP
Pioneer Square Impacts
---
PIONEER SQUARE NEWS ROUNDUP
Highlights from November's press
Restaurant & Retail News:
Other News: