Neighborhood News + Updates
January 2018
Photo by Daniel G. Harmann
---
HAPPY NEW YEAR FROM PIONEER SQUARE
2018 is going to be a full and exciting year.

As we close the chapter on another exciting year of change and growth in Pioneer Square, we look forward to the year ahead and the upcoming opportunities and challenges that are on the horizon. In 2018 we are preparing for an unprecedented year of infrastructure improvements and construction that will create new connections and amenities for the neighborhood in the long term, but present short term impacts that will need to be managed carefully for the health of our business district. We are already working closely with the teams responsible for the implementation of these projects and ensuring that our neighborhood has a strong voice in guiding the decisions that will shape our community.
We are also enthusiastic about moving forward the work already underway to create a more robust system of parks and public spaces in Pioneer Square that are inspiring, active, and inclusive for all. Plans for Occidental Square Park, Pioneer Park, King Street Station Plaza, and Union Station Square have already started being developed with input from the public.
It's also incredibly inspiring to see momentum building as our diverse mix of businesses shape Pioneer Square into Seattle's destination neighborhood. Our celebrated retail shops and inspired restaurant concepts are widely recognized, with 2017 press coverage coming from some of the most prestigious national and international media outlets. The transformation in the neighborhood is palpable, and everyday we witness the creativity and energy that these businesses bring to our community.
As we work to capitalize on our opportunities and wisely manage the challenges in the coming year, we are confident that Pioneer Square will continue to flourish, leading Seattle as the original and most vital neighborhood in the city. Here's to a successful 2018!
Warmly,
Leslie Smith
Executive Director
Alliance for Pioneer Square
---
WELCOME TO THE TEAM
Join us in welcoming our new intern.
We're pleased to introduce our newest team member, Jesse Lindsay. Jesse joins the Alliance for Pioneer Square as our seasonal intern and will be working on a variety of projects touching on public realm, marketing, and business development activities. We're excited to bring Jesse's skills and enthusiasm for the neighborhood into the mix.
---
HOLIDAY HOOKY HOUR PRIZE PASSPORT DRAWING
Congratulations to the four lucky winners!
On December 20th, we held the live Facebook drawing to select the four lucky winners from the Holiday Hooky Hour Prize Passport giveaway. Each recipient won a fabulous Pioneer Square gift basket, with prizes including event tickets, hotel stays, gift cards, goodies, and more! Join us in congratulating the following winners:
3rd Prize (So Much to Explore) – Roxann Swenson
2nd Prize (Shop the Square) – Kevin Coddington
1st Prize (A Night on the Town) – Tracy Cribb
Grand Prize (Seattle Sports Fanatic) – Casey Andrews
You can read all about Holiday Hooky Hour, our participating businesses, and the prizes here:
---
CENTER CITY CONNECTOR STREETCAR CONSTRUCTION
Major construction starts this week.
LONG-TERM LANE CLOSURES ON 1ST AVE S AND ON S JACKSON ST
Starting on January 2, northbound lanes on 1st Ave S will be closed between S Jackson St and Yesler Way while utilities are relocated and replaced. Closing both northbound lanes allows space for crews to perform the work safely and efficiently. Intersections and a southbound lane will be open during the day, with intermittent closures at night and on weekends. Northbound 1st Ave S will be detoured at S Jackson St. A signed detour will route those who turn west from 1st Ave S onto S Jackson St to Alaskan Way S, reconnecting with 1st Ave at Yesler Way.
The westbound lane on S Jackson St from 2nd Ave S to 1st Ave S will also be closed. Local access will be available by way of Occidental Ave S (see map at right). S Jackson St will be detoured at 2nd Ave S.
The First Hill Streetcar's stop at Occidental Mall will remain open during this work.
Lane closures are anticipated to continue for about 6 months.
For more information about what to expect during construction, please visit the Center City Connector project website here:
---
PIONEER SQUARE ALLEY IMPROVEMENTS
Resurfacing has begun in Nord Alley and Pioneer Passage
The long awaited resurfacing of Nord Alley and Pioneer Passage began in November. The resurfacing is part of a multi-year project that has focused on improving and activating these unique public space. This project has been spearheaded by the International Sustainability Institute (ISI).
With support from the Department of Neighborhoods, ISI sponsored a community-driven alley design process in 2013-14. They hired engineers and architects to create a design that speaks to the area's history, makes alleys accessible to everyone, and creates an easy-to-maintain surface.
SDOT's contractor, Gary Merlino Construction Company, started work in Nord Alley and recently moved to Pioneer Passage, with some overlapping of construction between the two alleys. SDOT will send out regular email updates providing information about the construction and its impacts, and will make direct contact with adjacent properties and businesses that are being directly impacted. If you would like to be added to the email list, please write to paul.elliott@seattle.gov.
More information about SDOT alley construction can be found here.

---
ALASKAN WAY VIADUCT REPLACEMENT PROGRAM
Looking back on a year of great progress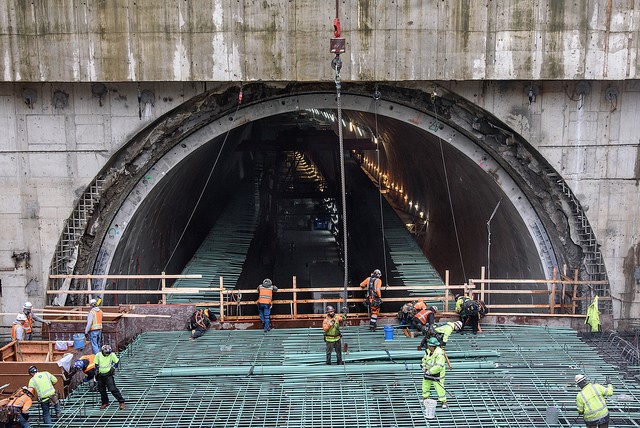 Less than 12 months ago, the tunneling machine Bertha was assembling tunnel rings beneath Belltown. The machine was 2,500 feet away from the finish line near Seattle Center, with an estimated arrival of June 2017.
A great amount of work was accomplished in 2017 on the project to replace the Alaskan Way Viaduct. Bertha completed the tunnel drive in April, and today all the tunnel rings are built and the tunneling machine is entirely disassembled. By Christmas, the southbound deck was 99 percent complete and the northbound deck stretched over 2,400 feet.
The contractor crews from Seattle Tunnel Partners completed far too much work this year to capture in one video, but here is a 2017 year-end review.
---
CONSTRUCTION ROUNDUP

Pioneer Square Impacts
Top Highlight:
The 7 Most Impressive American Cities of 2017 (Thrillist Travel)
Arts & Culture News:
Seattle Nonprofit Fuels the Resistance With Art (Seattle Magazine)
What to See at 2017's Final First Thursday (City Arts Magazine)
What to expect when Upstream Music Festival takes over Pioneer Square for year two (Seattle Times)
A Software Developer Visits an Art Show About Tech (City Arts Magazine)
Mount Analogue Is an Arts Space Unlike Anywhere Else in Seattle (Seattle Met)
First Thursday Guide for Jan. 4, 2018 (Real Change)
Philippe Hyojung Kim: Sculptor, Curator, Connector (City Arts Magazine)
Restaurant & Retail News:
Seattle Man Revives an Early-1900s Clothing Line (Seattle Magazine)
Other News:
Downtown Seattle lights up for the Holidays (King 5)
Tourists spend $195 a day in downtown Seattle – that's twice as much as local visitors (Seattle Times)
High rents drive co-working boom, forecasting more office demand later (Puget Sound Business Journal – paywall)
First Look: Seattle's new Embassy Suites hotel tower has views, Alexa and a room-service robot (Puget Sound Business Journal – paywall)
King County Selects Northwest Studio to Spearhead its Civic Campus Master Plan in Downtown Seattle (The Registry)
Thomas Rawls, the Seahawks' Santa, could be in line for more carries (ESPN)
---
FIND IT, FIX IT!

Have you seen an issue in the neighborhood, but didn't know how to report it to get it taken care of? "Find It, Fix It" is a smartphone app offering mobile users one more way to report selected issues to the City of Seattle. Reporting an issue is as easy as snapping a photo with your smartphone, adding detailed information, and hitting submit. Help us keep our neighborhood clean and well maintained. Be on the lookout to report graffiti, potholes, street lights out, abandoned cars and other issues through the Find it, Fix it app, online, or by calling 206-684-7587. If graffiti shows up on your property, make a police report by calling 206-625-5011.