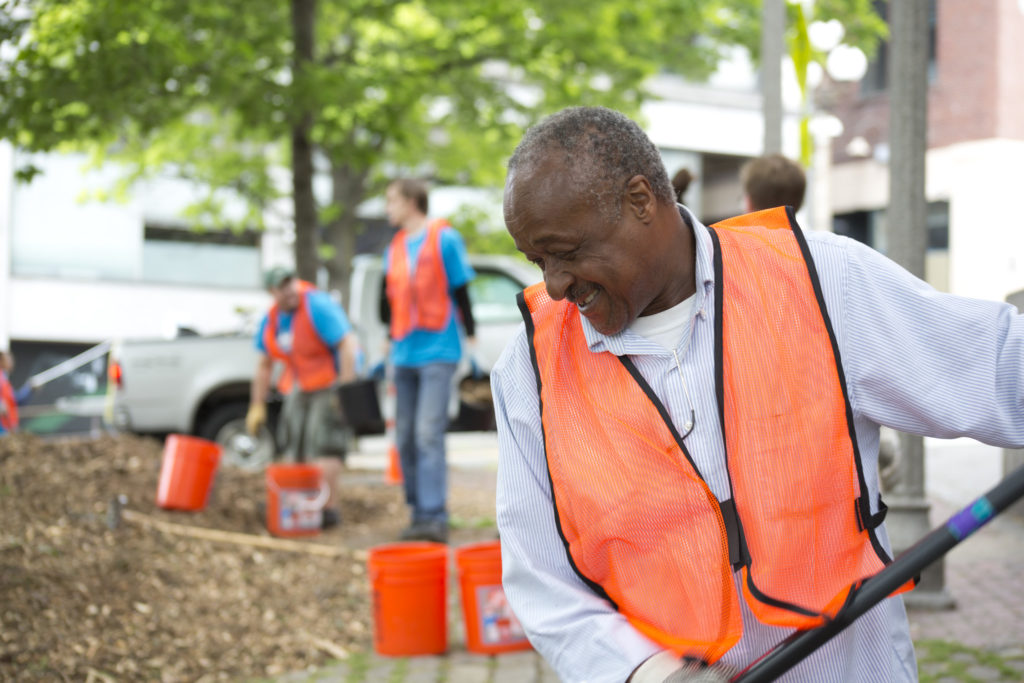 Annual Spring Clean
Join us each Spring to help make the neighborhood an even more beautiful and welcoming place. Team up with community members, employees, and neighbors for this fun and free event. Stay tuned for information regarding next year's event.
Trail to Treasure Wayside Maintenance
The Alliance for Pioneer Square has one current volunteer opportunity to maintain the Trail to Treasure program waysides. Groups of 4-5 individuals service each of the waysides throughout the neighborhood, removing graffiti and other residue from the signs. A group of 4-5 individuals can usually complete this task in 3-4 hours. Groups of 8-10 can usually complete this task in 1.5-2 hours. Please contact us if you are interested in volunteering to clean the Trail to Treasure way-finding signs.
Art Outside the Box" Public Art Project
In 2018 the Pioneer Square Residents' Council (PSRC) initiated their first public art project in the neighborhood Art Outside the Box! The intent is to spread art throughout the neighborhood on the Seattle Department of Transportation signal boxes (gray utility boxes that control traffic signals).
This first set of artworks were installed in the summer of 2019 and featured artists who are enrolled members of Coast Salish tribes, people who historically inhabited this region. These boxes were funded by the Business Improvement Area (BIA) of Pioneer Square and the Pioneer Square Residents' Council. In late 2019, the PSRC board decided to extend the same theme for six more boxes. Take a look at the 2020 artworks for signal boxes on Jackson Street and one box at 1st and Main. The boxes on Jackson are fully funded by the Pioneer Square Residents' Council and the box at 1st and Main is funded by BIA and PSRC.
Neighborhood Volunteer Opportunities
Volunteer opportunities can also be found throughout the neighborhood at variety of public and nonprofit organizations, including the Washington Bus, Compass Housing Alliance, Union Gospel Mission, Bread of Life Mission, and Chief Seattle Club, Seattle Public Utilities' Adopt-A-Street and Adopt-A-Storm Drain programs.
Volunteers are also welcome to help water the tree pits adjacent to 520 Occidental Ave S each week (summer only). Contact us at info@pioneersquare.org to sign up.