NEPSQ STEERING COMMITTEE
The Northeast Pioneer Square Framework Plan Steering Committee members include:
Lisa Howard, Alliance for Pioneer Square, Co-Chair
Lyle Bicknell, City of Seattle, Co-Chair
Council Member Andrew Lewis, City of Seattle
Tom Koney, King County
Brian Carter, 4Culture
Derrick Belgrade, Chief Seattle Club
Jill Davies, Low Income Housing Institute
Jenn Casillas, Downtown Seattle Association
Lisa Nitze, Nitze-Stagen
Tija Petrovich, Pioneer Square Resident
Eido, Pioneer Square Resident
Dave McKee, Seattle Lighting
Doug Vann, Tashiro Kaplan Building
Laura Komada, Pioneer Square Resident
Eugenia Wu, Historic Seattle
Adam Hasson, Samis Land Co.
Karl Mueller, Intrigue Chocolate Co.
Kathleen Johnson, Historic South Downtown
Steven Bullock, DESC
PROJECT OVERVIEW
The eastern part of Pioneer Square roughly encompasses the blocks between Yesler Way, 2nd Avenue Extension S, 4th Ave S, and S Jackson St. The area is home to a variety of businesses, art galleries, artist studios, and social services. Residents vary in social demographic make-up and live in a variety of housing types from market rate to subsidized housing.
Major transit and auto access in this area provides crucial access to the city and region. This concentration of buses and traffic essentially cuts off streets from other parts of Pioneer Square and downtown. Public spaces are mostly dark and underutilized coupled with a lack of police presence and enforcement. The area lies on a slope which poses difficult ADA access to reach transit and services. Additionally, the retail landscape is further challenged with theft and vandalism.
Attempts to address issues in this area have been sincere and ongoing, yet disjointed and under resourced. 2nd & Yesler was identified as critical to address in the 1998 Pioneer Square Neighborhood Plan. In 2016, the Alliance for Pioneer Square undertook a project with funding from the Department of Neighborhoods to create a concept plan for public spaces in Pioneer Square. The Pioneer Square Parks and Gateways plan helped set the stage to restore the vibrancy of Pioneer Square's parks and open spaces.
Developing a long-term vision for this area, will require thoughtful designs, socioeconomic change and dedicated, progressive stakeholder engagement.
PROJECT AREA
Fortson Square:
Fortson Square is a small triangle on the SE corner of 2nd Ave and Yesler Way. This small public space saw some big changes earlier in 2022 when Chief Seattle Club's affordable housing project ʔálʔal opened at 108 2nd Ave Ext S., providing 80 units of housing to previously unhoused residents, most of whom are Indigenous people.
This mixed-use space, next door to the Club's current location, also includes a ground floor health clinic, native arts café/gallery and social services to support the physical, spiritual and cultural needs of the Native community.
As the front door to this project, Fortson Square will also be recreated as a welcoming place for everyone. The Alliance for Pioneer Square is working in partnership with Chief Seattle Club on community outreach in this redesign effort. Design efforts for the new building and public space are led by Jones & Jones in coordination with SDOT.
City Hall Park and Prefontaine Place:
At 1.3 acres, City Hall Park is the largest green space in the district, and the second largest in the greater downtown area. The park initially served as the main entrance to the courthouse until the south entrance was turned into service-only access in the 1960's. In addition to the courthouse, the businesses and buildings surrounding Fortson Square, Prefontaine Place and City Hall Park have a high percentage of social services and civic uses. Yesler serves as a key east-west gateway axis on which all three parks hinge. Major transit access via the Pioneer Square transit tunnel and 3rd Avenue bus corridor provide key access and activity while also posing safety challenges.
The dark underutilized City Hall Park, the defunct Prefontaine Square and Fountain, and Fortson Square present a collective challenge but one with significant promise. A successful solution will require thoughtful design, socio-economic change and dedicated, progressive stakeholder engagement.
PROJECT UPDATE
The Northeast Pioneer Square Framework Plan process is underway. In 2022 the project received funding from Historic South Downtown for sustained support of Northeast Pioneer Square.
In 2022, project work will focus on continuing to build relationships among stakeholders in this space and moving forward with a retail plan, detailing opportunities, challenges and informing potential development.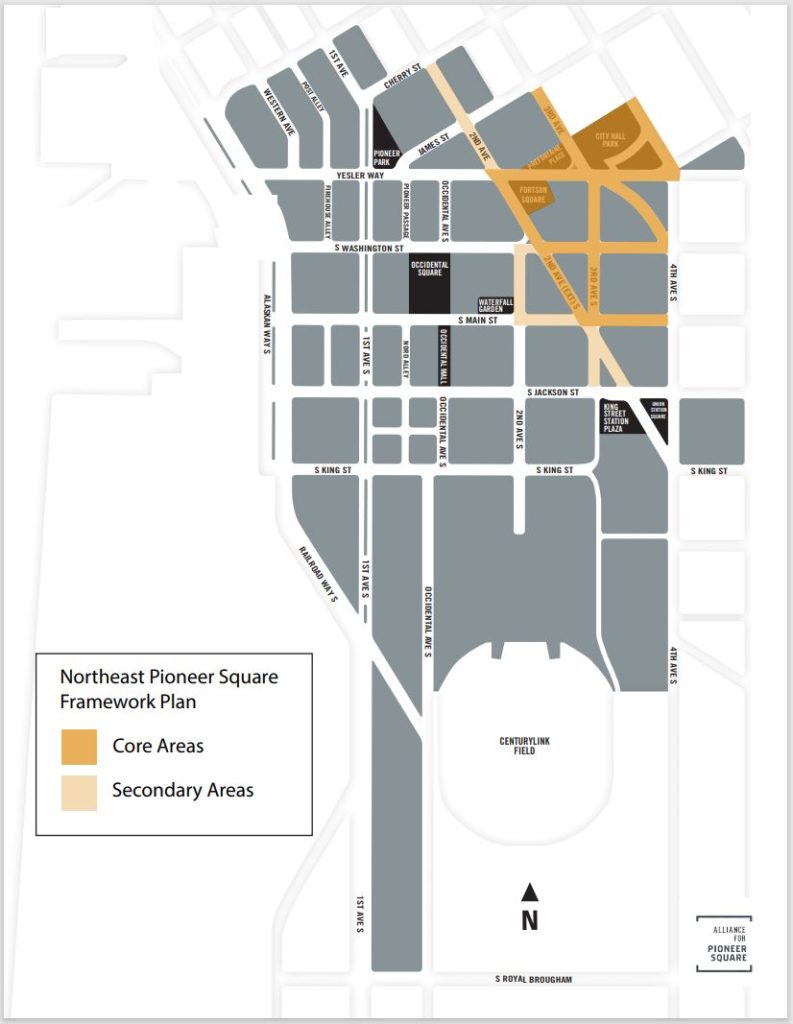 Currently final edits are being made to the Framework Plan, developed together with the Steering Committee in 2021. The goal of the Framework Plan is producing a shared long-term (10-year+) vision that is rooted in collaborative partnerships that will shape the future of Northeast Pioneer Square.
Early feedback from stakeholder interviews and focus groups include:
Create places for residents who need active spaces on the evenings and weekends and not just during the week.
Improve conditions for pedestrians, and prioritize maintenance of infrastructure and street/sidewalk cleaning as a first step. Safety and public health are critical.
Commitment and accountability are critical for the long-term vision to succeed – both from agencies and community organizations.
Create more community convening or forums for people to come together to regularly share information, build community and advocate for the neighborhood.
Work with community and artists to create a neighborhood identity that acknowledges and embraces the area's cultural history and emphasis on the arts.
Focus groups for human services, ground floor retail, and public art/ artists were held in 2021. The Framework Plan will be published soon and will articulate budget priorities, synthesize long-term public and private planning projects, and coordinate public engagement processes under a shared vision of success that promotes consensus and motivates action.