PROJECT OVERVIEW
The final Northeast Pioneer Square Framework Plan is now available. This work was the result of a yearlong community-driven process, and builds on previous plans, especially the 2016 Parks & Gateways Concept Plan, led by the Alliance for Pioneer Square, and the City of Seattle's 2019 Public Life Action Plan. The framework plan, produced by the Alliance in partnership with the City of Seattle, is made possible through funding from Historic South Downtown.
Existing and future residents, businesses, property owners, service providers and City and County governments all have a role in moving this framework plan forward. Over the last decade, these entities have engaged in planning processes which converge in this area and major projects are already beginning to alter the urban fabric. Many stakeholders involved in this framework plan are also involved in the implementation of these projects – most notably, future planning for the King County Campus Master Plan, redesigning 3rd Avenue S. and developing a new vision for City Hall Park. Using this framework plan, these projects can continue to share common community goals and objectives.
Retail Plan for Northeast Pioneer Square
In January 2023, ECONorthwest created a final report for Northeast Pioneer Square-an accessible, concise, and compelling to help property owners understand where and why retail can support financial and operational goals and to communicate to decisions makers and government officials how additional retail and services are supported by the neighborhood and how the economic activity generated by new businesses can support broader district goals.
This report is a subset of a larger, Pioneer Square-wide project to be completed in 2023 and provides background information and analysis on recent market trends and other conditions affecting Northeast Pioneer Square. This full report can be viewed below.
Fortson Square: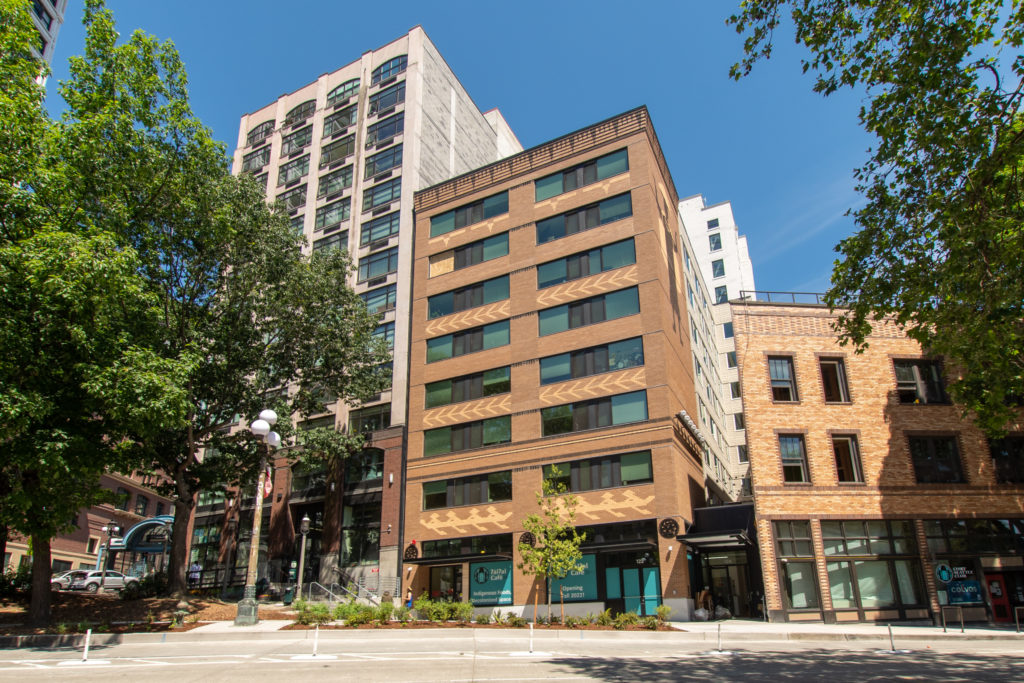 Fortson Square is a small triangle on the SE corner of 2nd Ave and Yesler Way. This small public space saw some big changes earlier in 2022 when Chief Seattle Club's affordable housing project ʔálʔal opened at 108 2nd Ave Ext S., providing 80 units of housing to previously unhoused residents, most of whom are Indigenous people.
This mixed-use space, next door to the Club's current location, also includes a ground floor health clinic, native arts café/gallery and social services to support the physical, spiritual and cultural needs of the Native community.
As the front door to this project, Fortson Square will also be recreated as a welcoming place for everyone. The Alliance for Pioneer Square is working in partnership with Chief Seattle Club on community outreach in this redesign effort. Design efforts for the new building and public space are led by Jones & Jones in coordination with SDOT.
City Hall Park and Prefontaine Place:
At 1.3 acres, City Hall Park is the largest green space in the district, and the second largest in the greater downtown area. The park initially served as the main entrance to the courthouse until the south entrance was turned into service-only access in the 1960's. In addition to the courthouse, the businesses and buildings surrounding Fortson Square, Prefontaine Place and City Hall Park have a high percentage of social services and civic uses. Yesler serves as a key east-west gateway axis on which all three parks hinge. Major transit access via the Pioneer Square transit tunnel and 3rd Avenue bus corridor provide key access and activity while also posing safety challenges.
The dark underutilized City Hall Park, the defunct Prefontaine Square and Fountain, and Fortson Square present a collective challenge but one with significant promise. A successful solution will require thoughtful design, socio-economic change and dedicated, progressive stakeholder engagement.
PROJECT UPDATE
The Northeast Pioneer Square Framework Plan is a long-term (10-year+) vision, rooted in collaborative partnerships to synthesize long-term public and private planning projects, articulate budget priorities, and coordinate public engagement processes under a shared vision of success that promotes consensus and motivates action.
The framework plan synthesizes the needs of residents, businesses, and service providers by consolidating years of policy direction and planning with new community-driven initiatives. This work also considers the near-term impacts of the COVID-19 pandemic that continue to affect the daily lives of those within this area, along with mid- and long-term objectives that will help the district evolve over time.
Current project work is focused on continuing to build relationships among stakeholders in this space and moving forward with the retail study conducted by ECONorthwest. The study team has been busy compiling and analyzing data, including planning for upcoming stakeholder interviews. This will provide valuable data points that will help in detailing opportunities, challenges, and informing potential development. The data from this study will be used to help guide future retail recruitment efforts, as well as providing more information on existing consumer demand.
Over the course of the next couple of months, the NEPSQ working group will be creating a short term implementation plan to move forward with improvements to the area in the immediate future as larger systematic processes move forward.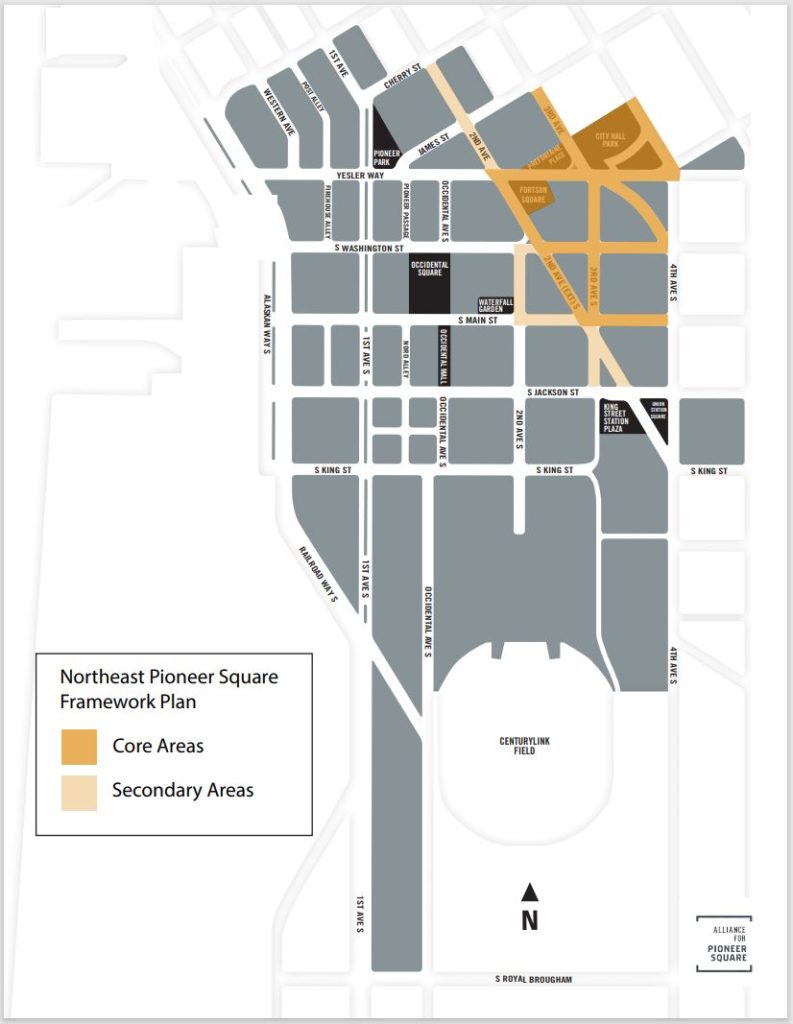 As the work transitions to implementation, this framework plan relies on the sustained involvement of actively engaged stakeholders who are committed to seeing that goals and actions are implemented over time. Several goals and objectives outlined in the plan can be implemented today, and those with the most immediate and lasting impacts include:
Ensuring community voices are included in the King County Campus Master Planning process.
Identifying a future vision for City Hall Park that maintains and improves this important community resource.
Aligning expectations of this framework plan with the future multimodal design of 3rd Ave. that prioritizes all modes of travel, pedestrian safety, transit access, and improving City Hall Park.
Under the Alliance for Pioneer Square's stewardship, this framework plan will continue to represent the myriad voices of Northeast Pioneer Square, and advocate for the resources needed to drive lasting neighborhood recovery and transformation.