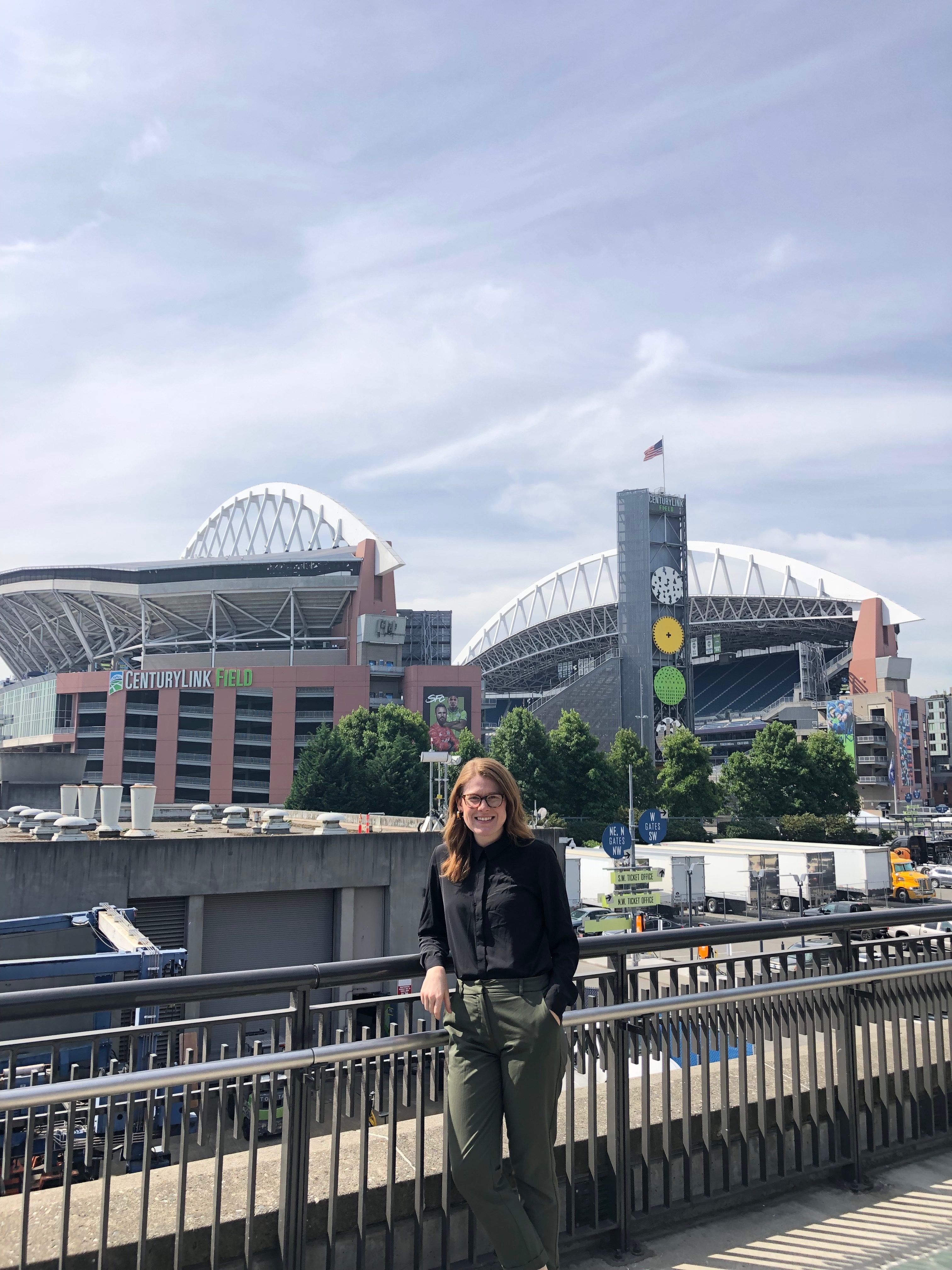 Meet Jennie:
In her role as Communications Director at the Alliance for Pioneer Square, Jennie oversees the brand and marketing of the neighborhood.  Focusing on experiential design, authenticity, and intentionality, Jennie uses storytelling to highlight the people that make this neighborhood so unique – including the work of her Alliance team members.  From business openings to community meetings to construction updates, her job is to make sure the right information is out there engaging the right audience. 
CenturyLink Field:
CenturyLink Field is a multi-purpose stadium located just south of the Pioneer Square neighborhood which hosts the Seattle Seahawks, the Seattle Sounders FC, and the Seattle Dragons. In addition to hosting sporting events, CenturyLink also hosts concerts, trade shows, and consumer shows. CenturyLink Field is an asset for both the Stadium District and Pioneer Square. Each home game for the Seahawks and Sounders FC brings large crowds through both areas. Further, CenturyLink Field's First & Goal Hospitality (FGH) group partners with Pioneer Square restaurateurs to bring fresh, local, and sustainable food as well as superior service and atmosphere to the Pacific Northwest's premier sports and entertainment facility.
Fun fact: During a Seattle football game on January 8, 2011, the Pacific Northwest Seismic Network (PNSN) recorded what was dubbed a "Beast Quake", for Marshawn Lynch, a player whose performance excited the CenturyLink Field stadium crowd enough for the resultant shaking to be recorded on PNSN instruments.
Jennie This Week:
This week, Jennie is excited about the announcement of the Seattle's newest sports franchise- the XFL Seattle Dragons. The franchise's name, logo, and team colors were recently announced at the team's headquarters in Pioneer Square. "The addition of the Seattle Dragons to the neighborhood will be another excellent opportunity to collaborate with CenturyLink Field and the Stadium District," Jennie comments on the team announcement. The Seattle Dragons will begin to play when the XFL re-launches in February 2020 at CenturyLink Field. The XFL states that the Seattle Dragons' name stems from Seattle's maritime history: "Rising from the turbulent sea. Beneath the darkening skies of their weather-hardened home. Relentless, ruthless, ravenous. Not of mythology, but of muscle and might. Not of folklore, but of football. This is your darkest fantasy, in cleats. The Seattle Dragons. Breathing fire."
The Seattle Dragons will promote a family friendly experience, which will add to Pioneer Square's already vibrant sports culture. "Our neighborhood already has strong ties to CenturyLink Field and this will further fortify the relationship," Jennie states. The Seattle Dragons will no doubt build on the cultural legacy of the Seattle Sounders- whose March to the Match fills Occidental Square each home game. Over the following months, the Alliance for Pioneer Square will explore avenues of engagement for the Seattle Dragon's team. Jennie says that "the Dragons will continue the energy the neighborhood after the Mariners, Sounders' Seahawks's seasons come to an end. That said, Pioneer Square is open all year round- whether or whether not there is a home game on that day."